TopLeo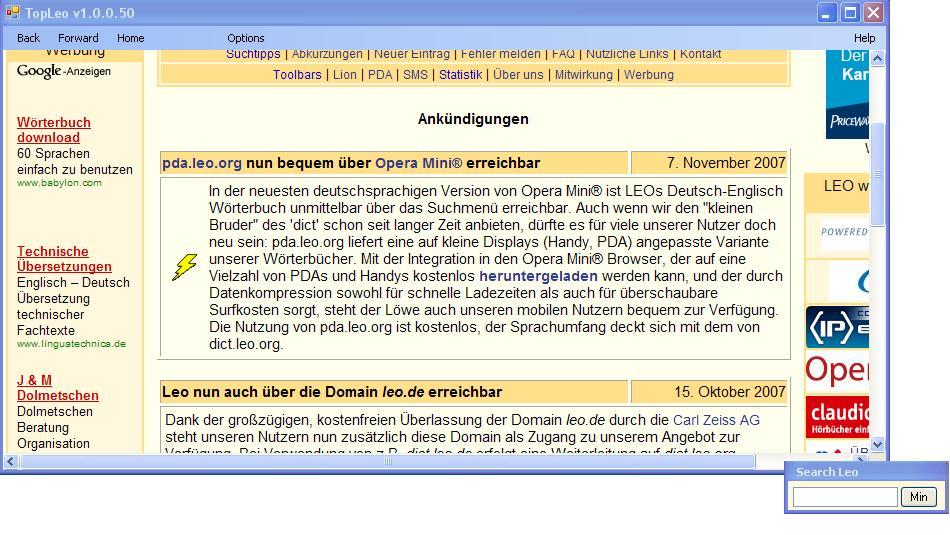 Freeware helper program for the leo.org online German-English dictionary
Freewarehelferprogramm für das leo.org Deutsch-Englische on-line-Wörterbuch
TopLeo is a simple no-frills Web browser for Windows which was built to counteract my annoying habit of closing my Leo window, instead of minimising it. It keeps Leo at my fingertips no matter what my other browsers are doing. Put it in your StartUp group for easy access to Leo at any time.
Floating search box brings up Leo when you type a word and hit Enter.
Search box turns semi-transparent automatically when not being used.
Difficult to close accidentally, but Windows is able to close it on shutdown.
Written to use with Leo, but not inextricably tied to the Leo site.
Periodically checks for updates on the author's web site
Topleo ist eine einfacher Browser. Es ist gegen meine Unsitte erschaffen. Ich schließe meine Leofenster stattdessen es minimieren. Das Programm hob Leo zur Hand.
Stecken Sie es im Startupgruppe um leichter Leo Zugriff zu haben.
Es gibt einer unverankerter Suchfeld, um Leo hinauf zubringen.
Das Suchfeld kann Durchlässig sein.
Das Programm wird zeitweise Aktualisieren suchen.
You can download the latest version of TopLeo, for free, from here. Hier kostenlos downloaden.